U prethodnom postu izjavila sam kako se odričem pečenja kolača na mjesec dana (dakle, još je dvoznamenkasti broj i daleko je od brojanja sitnog).. No to što objavljujem post ne znači da sam prekršila obećanje.. samo sam našla "rupu u zakonu".. sinoćnju večeru ne može se zapravo svrstati u kolače.. iako je slatka..
Još otkako sam se prije 2 godine vratila iz Belgije, svima redom mastim brk svojom željom da otvorim prvu "waffelarnicu" (znam da to nije riječ!) u Zagrebu.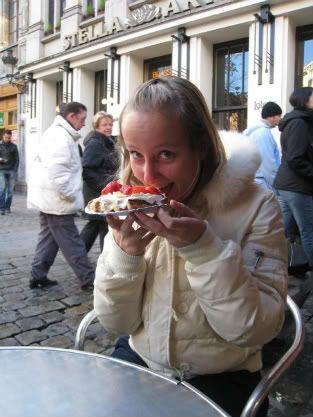 U međuvremenu, ta prva se otvorila.. i nije moja.. Ali vafli koje sam u njoj probala ne da nisu ni do koljena pravim belgijskima, nego ni do gležnja.. Bolesno preslatki i teški.. (ako netko ovo čita- mooolim učinite nešto po tom pitanju.. zaista je šteta!)
Ne moram ni spominjati da sam povratkom iz Belgije gotovo automatski kupila i pekač vafla.. No kako se u našoj kući uvijek nađe nečeg slatkog, vafli rijetko dođu na red.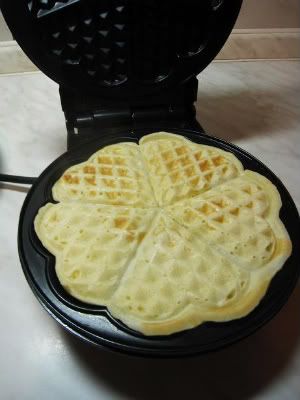 Poticaj za pravljenje belgijske slastice ovog je puta bio nedavni izlet u Beč u kojem smo uživali u da-ti-pamet-stane finim vaflima.. I od tada, svi smo "nabrijani" samo na to da ih ponovimo.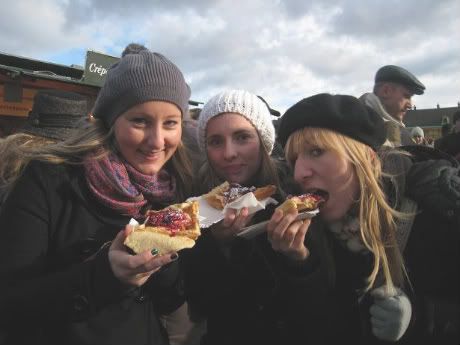 Prema slikama iznad, lako je primjetiti da se vafli mogu jesti s čime vam god srce poželi- šlagom, pudingom, voćem, šećerom u prahu, čokoladom.. Također napominjem da postoje i razne vrste vafla, od laganih (Američki vafli), gustih, sirupastih (stroop vafli , Brussel vafli), pa do hrskavih (Antwerp vafli)..
A moje sinoćnje (american style) vafle jelo se sa... nutellom i šlagom! Da vam predočim: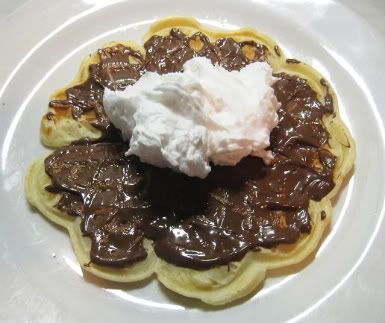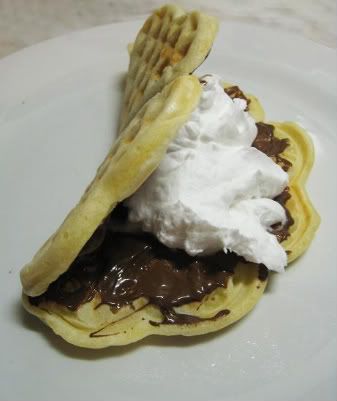 Veselila sam se da će me barem jedan dočekati i ujutro (dobri su i podgrijani u mikrovalnoj), ali.. nisam bila te sreće.
Morat će se ponoviti.. uskoro!